What's in the Spring 2018 issue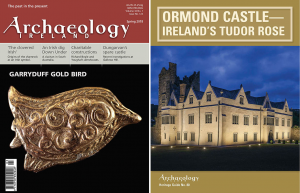 MAGAZINE CONTENTS SPRING 2018
'The clovered Irish'
Niall Mac Coitir explores the origins of the shamrock as a symbol of Ireland.
---
The biography of an axe
Ros Ó Maoldúin and Ed Danaher consider the life story of a Neolithic shale axe, from source to deposition.
---
An Irish dig Down Under
Susan Arthure describes investigations at a nineteenth-century clachan at Baker's Flat, South Australia.
---
Know Your Monuments: Post-medieval marginal farming
Muiris O'Sullivan and Liam Downey outline an indicative perspective of marginal farming in post-medieval Ireland.
---
Dungarvan's spare castle
Dave Pollock describes recent investigations at Gallows Hill motte in Dungarvan, Co. Waterford.
---
Beaches, fields and landing grounds
James O'Neill assesses the concrete and steel defence heritage of the Derry coastline.
---
Decrypting the dead
René Gapert and James Barry describe the Earls of Barrymore DNA Project in Castlelyons, Co. Cork.
---
St Willibrord's Carlow connection
Dermot Mulligan explains links between County Carlow and the patron saint of Luxembourg and the celebration of an unusual pilgrimage tradition.
---
Plus
News and Net news
Quote … unquote
Events
Book news
Museum Piece: The Garryduff Gold Bird
---
HERITAGE GUIDE—ORMOND CASTLE, CO. TIPPERARY
---