Encountering the sacred: the archaeology and heritage of pilgrimage
Date: 5 October 2019. Location: Print Works, Dublin Castle.
Gabriel Cooney and Louise Nugent describe the context of and outline the approach to this one-day conference presented by the National Monuments Service of the Department of Culture, Heritage and the Gaeltacht in partnership with the Office of Public Works and organised by Archaeology Ireland. The event will take place at the Printworks, Dublin Castle, on 5 October 201. Booking via  
---
This one-day conference will focus on the importance of sacred places and spaces and our human experience of them. Central to virtually all religions—global or local, oral or religions of the book—is the idea that there are places where the otherworld, the numinous or the sacred can be encountered and contacted by carrying out rituals or religious practices at specific times.
Sacred places can be natural, such as caves, mountaintops, islands or springs, or they can be constructed. Such monuments and buildings often deliberately incorporate and literally build on the existing significance of the place where they are located. These sacred sites are not only testaments to the beliefs of the people who built and used them but are also an outstanding feature of the archaeological record.
The conference programme will focus on the significance of sacred sites in a range of religious and cosmological contexts and will explore the central role of pilgrimage: people journeying to sacred places for spiritual purposes. We are familiar with the role of pilgrimage in particular religious contexts—the Camino to Santiago de Compostela, the Hadj to Mecca and the Lough Derg pilgrimage in Ireland. But pilgrimage has served to connect and reconnect people and places from prehistory to the present. Today this theme of travelling, focused on walking, with a specific goal and broader purpose in mind has become an important element of heritage-based tourism in Ireland, Europe and globally, and has significant potential for community engagement and benefit. This conference will explore how we can understand pilgrimage as a spiritual and cultural experience.
Developed by conference advisers Professor Gabriel Cooney and Dr Louise Nugent, the programme features an interdisciplinary gathering of eminent scholars and practitioners presenting their work on the archaeology of pilgrimage in a wide variety of religious contexts in Ireland and internationally.
In focusing on the importance of sacred places and spaces and our human experience of them, the conference also serves to mark the 150th anniversary of the beginning of statutory protection of churches and other religious buildings in Ireland. Programme available HERE.
---
From the Camino to Chaco: pilgrimage, landscape and materiality (Professor Ruth Van Dyke)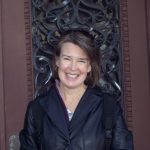 In the North American south-west, sacred geographies—mountain peaks, canyons, waterfalls—are marked by shrines, rock art, trails and votive deposits. Indigenous peoples, past and present, regularly undertake pilgrimages to natural and archaeological places. Pilgrimages involve journeys—movements and displacements—as well as spiritual encounters and social transformations. Cross-cultural anthropological investigations into pilgrimage have focused on symbols and sacred places, communitasand contestation. But what of pilgrimage's materiality? Experiences on the Camino de Santiago have helped me to think about the materiality of bodies in motion: objects carried, venerated, deposited or left behind; clothing worn and gear adopted; trails, markers and transportation; food and lodging. My goal at the end of this phenomenological journey is to shed archaeological light on the eleventh-century AD experience of pilgrimage to Chaco Canyon, a UNESCO World Heritage Site that was the centre of the ancient Pueblo world.
Ruth M. Van Dyke is Professor of Anthropology at Binghamton University–SUNY and a perennial peregrina on the Camino de Santiago. Her archaeological research employs phenomenological and spatial methods to investigate the intersections of memory, materiality and ideology on the Chacoan landscape of the south-western United States.
Between heaven and earth: sacred mountains in prehistoric Ireland—foci for pilgrimage? (Frank Coyne)
Mountains and high places have always held a special place in the archaeology, mythology and heritage of Ireland. Many mountains and hills are topped and emphasised by prehistoric monuments such as cairns, presumably containing burials. Evidence for this can be seen throughout the country, and it seems clear that people visited, altered or added to these monuments long after their initial construction. A number of questions will be explored in this talk, including the question of whether it is possible to understand the original intention and motivation of the builders of these monuments. Was the placement and presence of monuments important in making such mountains or hills sacred, and were they thereafter foci—places to be visited or, indeed, avoided? Did these mountains and monuments constitute a destination in a spiritual journey—a pilgrimage—or is it anachronistic to consider these special places as elements in pilgrimage as it is currently understood?
Frank Coyne is a director of Aegis Archaeology Ltd. His professional work focuses on heritage and archaeological consultancy for the public and private sector, ranging from desk-based assessment to excavation. He has had a special interest in upland archaeology and sacred landscapes.
Travelling light—pilgrimage in Neolithic Ireland (Dr Robert Hensey)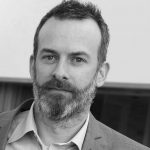 Was pilgrimage a feature of societies in Neolithic Ireland? Our concepts of pilgrimage in the past may be unduly shaped by accounts of medieval Christian pilgrimage, yet evolving scientific techniques, such as ancient or aDNA and isotope analyses, are beginning to provide robust evidence of movement of people in prehistory. We can identify potential gathering places in the landscape too, such as Neolithic monumental enclosures of various kinds, even if it is a more difficult task to determine the role/s these sites played for the communities who built them. In certain cases, the transportation of construction materials for Neolithic monuments or select artefacts found within them demonstrate connections over significant distances. Did people also travel from these same locations to gather for important seasonal celebrations—events such as the winter solstice at Newgrange, for instance? And, if so, can we claim these journeys as pilgrimages?
Robert Hensey is an archaeological research professional and independent author specialising in Neolithic Ireland, with particular reference to passage tombs and related monumental architecture. He is the author of First light: the origins of Newgrange and co-editor of The archaeology of darkness, both published by Oxbow Books.
Göbekli Tepe and the early Neolithic T-pillar sites of Şanlıurfa, Turkey: progress or decline? (Dr Lee Clare)
Since its discovery in the mid-1990s, the early (pre-pottery) Neolithic site of Göbekli Tepe in south-east Turkey (Şanlıurfa Province) has captivated not just the imagination of academics in terms of understanding the processes that led to agriculture and sedentary societies but also global interest because of its extraordinary evidence for the expression of religious beliefs. Its recent inscription as a UNESCO World Heritage Site has seen a notable increase in media attention and, with it, the uncritical repetition that this prehistoric settlement is not only home to the world's first temple but also the birthplace of religion. To understand the site and how and why people journeyed and lived there, we need to consider its broader geographical, chronological and cultural contexts. Accordingly, although Göbekli Tepe has produced indisputable evidence for some of the earliest monumental buildings, it is undoubtedly misplaced to identify the site as the metaphorical 'smoking gun' that points to changes in cosmology that led to Neolithic societies. Indeed, available archaeological data could instead be read as suggesting that the megalithic buildings with their characteristic monolithic T-shaped pillars, many of which carry vivid reliefs of wild animals and symbols, could mark the slow demise of late hunter-gatherer narratives and traditions, a final flourish of Palaeolithic ways of life before the relentless surge towards the full-blown Neolithic.
Lee Clare is a British-German archaeologist based in the German Archaeological Institute (Orient Department) in Berlin. In addition to the Eastern Mediterranean Neolithic, his research interests include absolute (radiocarbon) chronologies, climate–culture interactions, prehistoric conflict and cognitive archaeology.
Pilgrimage in early medieval Ireland: the journey, the complex and the shrine (Dr Tomás Ó Carragáin)
With several thousand churches and many other sacred places, some with pre-Christian roots, the early medieval (c. AD 400–1100) landscape was laden with enchantment. While major ecclesiastical complexes like Clonmacnoise, Glendalough and Inishmurray did not monopolise access to the numinous, they did emerge as some of the most revered places of pilgrimage. This paper considers how the experience of pilgrims was shaped by what they saw on their journey through ecclesiastical lands and by the multiplicity of monuments at the ecclesiastical complex itself. It also emphasises that, while special graves and shrine-chapels have survived relatively well, the ultimate focus of the pilgrim's journey varied considerably from site to site.
 Tomás Ó Carragáin specialises in the archaeology of early medieval Ireland and its European context (c. AD 400–1200). Among other subjects, he has published on the archaeology of religious change and archaeological approaches to ritual practice (including pilgrimage).
Pilgrimage in medieval Ireland (Dr Louise Nugent)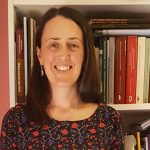 Pilgrimage played a central role in the devotional lives of medieval people. Historical and archaeological sources for late medieval Ireland point to men and woman from all social classes engaging in pilgrimage. Irish pilgrims had access to an extensive network of holy places, ranging from mountaintop sites like Croagh Patrick to holy wells, relics and graves of saints and cathedral churches in Ireland, along with exotic locations of more international appeal like Rome and the Holy Land. This paper will explore what motivated Irish pilgrims to undertake pilgrimage and how the reason for pilgrimage—such as a search for healing or the need to perform penance—influenced the pilgrim's choice of destination. It will also explore the evidence for pilgrimage at several prominent Irish medieval pilgrim destinations, such as St Patrick's Purgatory at Lough Derg, Co. Donegal, the shrine of Our Lady of Trim and Christchurch Cathedral, Dublin.
 Louise Nugent is an archaeologist and researcher specialising in the archaeology and material culture of medieval and modern pilgrimage. She has published and presented papers on the subject and runs the blog and Facebook page 'Pilgrimage in Medieval Ireland'.
Here to there and back again: how medieval Irish pilgrims made their way (Br Colmán Ó Clabaigh)
This paper examines the practicalities of medieval Irish pilgrimage to foreign shrines. Starting with how pilgrims put their affairs in order and temporarily disengaged from relationships and responsibilities, it then examines the resources available to them as they undertook the trip of a lifetime. It shows how the Christian Church mobilised its spiritual and moral authority to safeguard the pilgrim, as well as providing practical assistance and shelter en route.
Colmán Ó Clabaigh is a monk of Glenstal Abbey, Co. Limerick. A medievalist specialising in the history of religion and monasticism, he is the author and editor of several books, including The friars in Ireland 1224–1540(Dublin, 2012).
 Friars' walk: from Ireland to Jerusalem in the fourteenth century(Dr Małgorzata Krasnodębska-D'Aughton)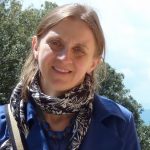 In 1323 two Irish Franciscans, Simon Semeonis and Hugo Illuminator, 'inflamed with seraphic ardour', left Ireland to go on a pilgrimage to the Holy Land. A colourful though incomplete description of the friars' journey survives in a manuscript (MS 407) preserved in the Library of Corpus Christi College, Cambridge, and gives us a sense of their wonderment at the sight of the magnificent architecture, clothes, food, technology and religious practices they encountered on their journey. The itinerary also illustrates how the members of the international Franciscan Order stimulated the transmission of intellectual and artistic ideas between Ireland, the Continent and Islamic territories. This paper looks at the friars' experience of their journey as they navigate through places of safety and conflict, encountering western relics and eastern riches.
Małgorzata Krasnodębska-D'Aughtonlectures in medieval history at University College Cork. She specialises in the cultural and religious history of the Middle Ages and has published on the Franciscan Order in medieval Ireland, ecclesiastical art in the collections of the mendicant houses in Ireland, Irish illuminated manuscripts and manuscripts in Polish libraries.
Being an archaeologist and a pilgrim: an observer and/or a participant? (Pat Holland)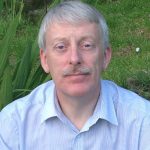 Starting in the early ninth century, when the bones of St James, one of the Apostles, were reputedly found in Galicia, Compostela gradually grew into one of the three main pilgrimage sites in medieval Europe. From a peak in the twelfth–fourteenth centuries, when thousands of pilgrims are believed to have visited Santiago de Compostela annually, the pilgrimage gradually declined until it was virtually dead in the early twentieth century. Today very large numbers of pilgrims are again walking to Santiago and to other pilgrim sites across Europe. How do we deal with living traditions inhabiting an archaeological space, one with such a rich heritage? Can we reconcile being both an archaeologist and a pilgrim, with their differing aims, values and practices? How does walking the Camino influence our archaeological view of the past and of the Camino? What is the daily life of the modern pilgrim? Can one study the medieval Camino and its archaeological remains while being part of the modern Camino?
 Pat Holland is a graduate of University College Galway who has worked with the Archaeological Survey of County Galway and as museum curator with South Tipperary County Council. He is an active hillwalker, and he and his wife Ellen have been walking several Caminos across Europe for two weeks nearly every year since 2007.
Buddhist pilgrimage and the articulation of religious and heritage experience (Professor Robin Coningham)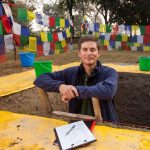 Pilgrimage is one of the fastest-growing motivations for travel, with over 600 million global 'religious and spiritual voyages' each year. Reflecting this trend, experts have predicted that Buddhist pilgrim numbers travelling to South Asia will reach an annual figure of 22 million by 2020. They also estimate that over five million pilgrims will visit the site of Lumbini in southern Nepal, the Buddha's birthplace, by 2020. The Asia Development Bank is investing in physical infrastructure to support such numbers with roads, airports and visitor centres. Equally importantly, the organisation recognises the potential for their investment to benefit local communities and contribute to the alleviation of poverty. We should recognise, however, that there is a significant threat that the development of physical infrastructure for pilgrimage may result in the destruction of the rich archaeological sites and historical landscapes that pilgrims come to visit. This presentation examines the practical balance between these challenges and evaluates whether 'sustainable pilgrimage' is achievable.
Robin Coningham is an archaeologist at Durham University and holds UNESCO's Chair on Archaeological Ethics and Practice in Cultural Heritage. He works extensively across South Asia at sites of living heritage and co-directs UNESCO's fieldwork within the Natal Landscape of the Buddha in Nepal at Lumbini, Gautama Buddha's birthplace, and Tilaurakot, identified by many as his childhood home of Kapilavastu.